Capstone – Project Charter
Develop a Marketing Plan As Part of Strategic Planning Process
A Collaboration Between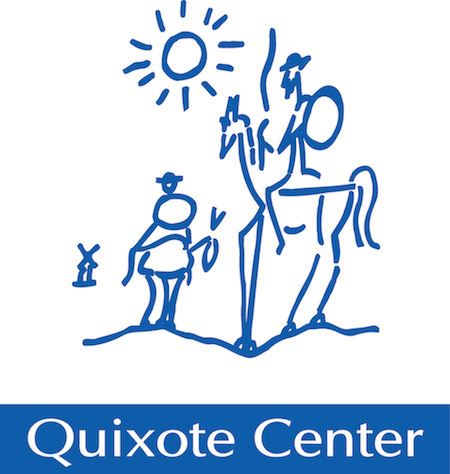 Quixote Center was founded in 1976 as a multi-issue social justice center in the Catholic social justice tradition. The Center has a very loyal donor base that has sustained the organization but the donor network has contracted in recent years. Over the next several months, the plan is to have a board-level mission discussion and then to develop an organization-wide strategic plan. As part of that process, we would like to consider how to engage new constituents and think at a deeper level about who we would like to engage - in short, a marketing plan for the Center for at least the next year with some suggestions over the next 5 years.
HOST VENUE ADDRESS
7307 Baltimore Ave., Suite 214, College Park, MD 20740
REQUIRED PREREQUISITES
Some knowledge of non-profit donor market analysis would be valuable.
LEARNING OBJECTIVES
Develop an understanding of non-profit donor segmentation and cultivation.
Identify untapped constituencies or expansion opportunities and suggest approaches to engagement of those groups.
Consider social enterprise revenue strategies, such as impact investment, and analyze whether there are potential opportunities of this sort and how such opportunities might also be marketed.
Identify potential gaps in skill sets, technology platforms, or other areas where the organization might strategically invest to advance marketing goals.
| | |
| --- | --- |
| Company | Quixote Center |
| HQ | Maryland |
| Revenue | Unlisted |
| Employees | 1-5 |
| Stage | Small Business |
| Hiring Potential | Follow-on Projects, Formal Internship |
| Website | www.quixote.org |
The Quixote Center is a multi-issue social justice organization. We work with partner organizations to bring about lasting systemic change in the Americas. We stand in solidarity and friendship with those who seek to improve the lives of the very poor, and provide guidance, technical assistance, and funding to support their work and allow their movements and programs to mature and take hold. We rely on the support of likeminded people who recognize the need for structural changes in an increasingly unequal global society.
Course Info & Engagement Details
School
University of Notre Dame Mendoza College of Business
Engagement Format
Capstone - Small Team Consulting Project - Students work in small groups of 2-6 directly with faculty and host company project champions on developing real solutions to real-world challenges.
Program
College of Business
Course
2020 SPRING – MBA Interterm (IMPACT)
Level
Graduate
Students Enrolled
120 Enrolled, 2-5 per group per project
Meeting Day & Time
3/2 - 3/5/2019 on-site at host company
Student Time Commitment
1-3 Hours Per Week
Company Time Commitment
3-5 Hours
Duration
4 days (03/02/2020 - 03/05/2020)
Departments Involved
Growth Strategy
Marketing
PR & Communications
Reporting, Financial Planning & Analysis
File Attachments
There are currently no students assigned.
January 19, 2020

Student Teams Finalized. Companies provided with final roster of students that will be visiting your office to work on the interterm project.

February 7, 2020

Companies will send a formal welcome/on-boarding email to students to get them excited and ramped up for the project, which should include any pre-work/pre-reading. We'll provide you with a template you can use when we notify you of your student roster.

March 2, 2020

OFFICIAL PROJECT LAUNCH: Students will be on-site working for the week

March 5, 2020

OFFICIAL PROJECT END: Students will present results to company leadership on-site
Key Milestones & Project Process
March 2, 2020

-

Profile Current Donor Network

Who is currently supporting the work of the Quixote Center?
What are these people like? What do we know about them?
What don't we know about them?




Suggested Deliverable:

A donor profile report that offers meaningful segmentation for all donors over the past 5 years on an annual basis, showing total number of donors, average gift, and total giving by segments and by year.

March 3, 2020

-

Peer Organization Market Analysis

Who else is doing work similar to that of the Quixote Center?
What are those organizations like, in terms of size, programs?
What marketing segments are these organizations targeting?
What channels are these organizations employing?




Suggested Deliverable:

Marketing strategy list and ranked recommendations.

March 4, 2020

-

Applied Analysis

What kinds of materials and channels are Quixote Center using?
Are there any gaps between what Quixote Center and their peer organizations are doing that might be replicable?
Are there any strategies that the Quixote Center could consider or new segments for outreach?

 




Suggested Deliverable:

A marketing plan that recommends segments, channels, and strategies to develop in the upcoming 5 years.