An Interscholastic Live Case Competition Series
What is the IACBE Case Competition Series?
For the past 6 years, CapSource has served as IACBE's trusted partner for experiential learning. We've been working together to provide IACBE member and non-member institutions with a way to challenge their students through a Live Case Competition. This approach allows our shared network of schools to test out our high-impact experiential learning technology while enabling IACBE to incorporate students into the annual conference in a way that helps them develop professionally.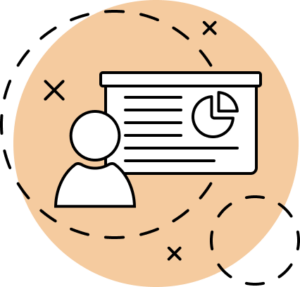 About the IACBE Partnership
The International Accreditation Council for Business Education (IACBE) ensures academic quality at over 235 leading business schools around the globe. IACBE partnered with Capsource to provide their network and business schools with a taste of high impact Experiential Learning.
What is a Live Case Competiton?
Engage your students with a live business challenge!
Our "Live Case" experiential learning format provides students with the training, exposure, and reference-worthy experience that they need to set themselves apart upon entering the workforce.
Spring IACBE ACAM Live Case Competition: Launches Virtually, with Live, In-Person Presentations in Orlando, Florida (see schedule below)
Interscholastic collaboration with a featured Industry Partner

5 Week "Live Case" Program

Academic Mentor and Student CONNECT Platform Access

One carefully designed industry challenge (see prior examples)

Reference-worthy, project-based, experiential learning for students

Off-Sites and Professional Development Sessions
$500 per student 
ARVE Error: Mode: lazyload not available (ARVE Pro not active?), switching to normal mode

Spring 2023: ACAM Live Case Competition Information
Take a moment to learn more about Correct Craft as well as the case challenge from Angela Pilkington, Correct Craft's Executive Vice President and Cheif of Staff!
ARVE Error: Mode: lazyload not available (ARVE Pro not active?), switching to normal mode

More About Correct Craft
Correct Craft is a United States-based builder of powerboats primarily for waterskiing and wakeboard use. It was founded in 1925 by Walt C. Meloon as the Florida Variety Boat Company. Correct Craft is the oldest family-owned and operated boat manufacturer in the world.
Since 1925, Correct Craft has operated as the world's leader in tournament inboard, freshwater fish, and utility and recreational boats, as well as marine propulsion and watersports parks.
Correct Craft owns a variety of watersports brands, including Nautique, Centurion, Supreme, Bass Cat, Yar-Craft, SeaArk and Bryant boat companies, Pleasurecraft Engine Group, Parker boats, and Aktion Parks.
Each team of participating students will be working amongst all of Correct Craft's brands.
Lodging:
Ideally located on International Drive in the heart of Orlando, Rosen Plaza® Hotel is connected via skybridge to the Orlando Orange County Convention Center, across the street from the Pointe Orlando shopping and entertainment complex,  and only minutes away from world-famous attractions such as Universal Orlando Resort™, SeaWorld®, and Walt Disney World®.  It is also five minutes from the Rosen Aquatic & Fitness Center. Getting there is easy, too, with Orlando International Airport just 15 minutes away and the area's major highways close by.  Please reserve your room using our room block link to take advantage of the special $189 nightly rate.
Optional SeaWorld Outing:
Tuesday evening before the competition, students and faculty can join the IACBE on a trip to SeaWorld® Orlando. This completely optional outing is a great way for students to network with peers before the competition takes place. Transportation for the event will be from the Rosen Plaza at 6:00 pm on Tuesday!
Cost: $110 per student
Prizes:
Each member of the winning team will receive $250 PLUS Correct Craft Swag. There will also be prizes for the team finishing second-place!
Office Hours:
For students to learn more about the company and gain a deeper insight into the challenge, we recommend that ALL teams schedule office hours with the Correct Craft Team! Office hours will take place on 3/31 and will be scheduled directly with the Correct Craft Team!
Compete Virtually:
Sign-up between now and March 19th to compete virtually! The team can get caught up to speed by watching the recorded webinar as well as reading provided materials. The cost per student for a virtual team is $200!
What else is included?
Professional Development Sessions!
Register A Team Today!
Missed the March 5th Deadline? No Problem!
Enroll before Sunday, March 19th, and get caught up to speed with the rest of the teams by watching the pre-recorded webinars and reading available material! Teams can also compete virtually for $200 per student!
To register, fill out the form below and a member of the CapSource team will reach out with next steps!
IACBE Case Competition Series Testimonials & Featured Press