Culver-Stockton College
Experiential Learning Profile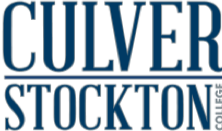 Founded in 1853 by members of the Disciples of Christ church, Culver-Stockton College has more than 160 years of educational and historical experience – surviving the Civil War and Great Depression, promoting social equality and incorporating technological advances – always striving to reach new levels of excellence.
Project Requests
This school currently has no project requests.
Project Charters
This school currently has no charters.
Students
There are currently no students assigned.