The Experiential Hiring Revolution
According to the Society for Human Resource Management, 40% of college graduates are considered underemployed, and 61% of entry-level jobs require at least three years of experience, which can make earning an entry-level job for recent college graduates a big pain. Since less than two million internships exist each year for the roughly 20 million enrolled college and graduate students, it's essential that we rethink the way we build pathways for young talent to meet and engage with our organizations. 
CapSource has been helping companies design case-based and project-based collaborations with students and young professionals, using our specially designed experiential learning and hiring platform, for over four years. Our team has already helped 5,000+ students add meaningful work experience to their resume by making it easier for companies to design and manage high-impact research-oriented collaborations.
CapSource's model is to provide the framework and technology necessary to properly design and on-board candidates so they can work on "experiential hiring" projects that enable them to gain experience and exposure while showcasing their soft and technical skills. The key outcome of experiential hiring is to help organizations assess next-gen talent to ensure they are a good fit, which leads to a more engaged workforce with higher retention rates. Our team works with hiring managers and department leaders to design custom projects based on carefully designed templates that compliment each business function.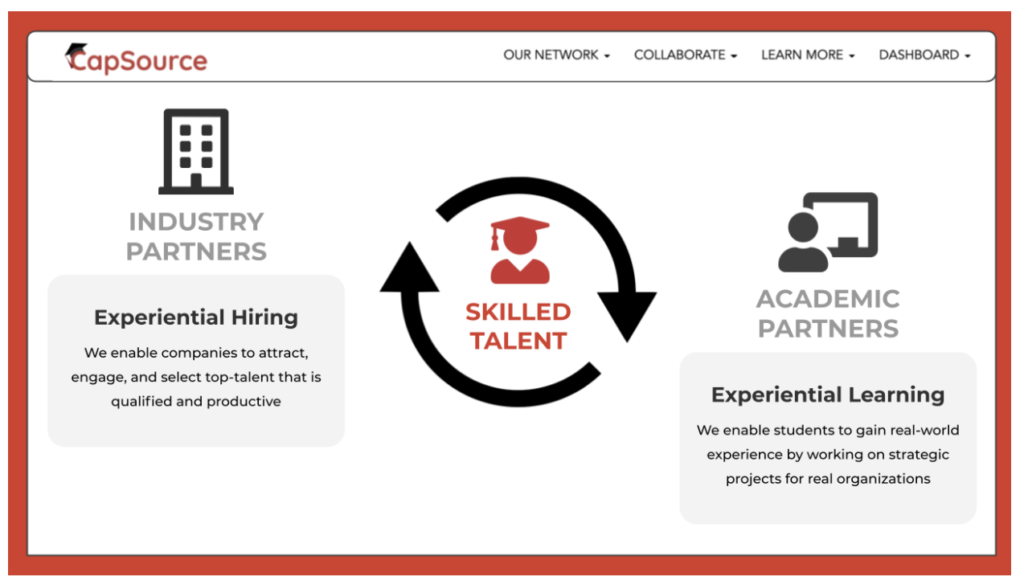 So, what exactly is Experiential Hiring? If you haven't already, we recommend reading about our Experiential Hiring Framework. In a nutshell, experiential hiring is the "try before you buy" way to engage, qualify, train, and on-board new talent. Companies are able to build a talent pipeline – without the risk of hiring high-churn, disengaged new team members.
Experiential hiring is not new. Organizations have been offering apprenticeships, fellowships, internships, and ambassadorship programs for decades as ways to build relationships with next-gen talent. The issue is; they're difficult to scale, especially at a high level of quality for both the candidates and the organization.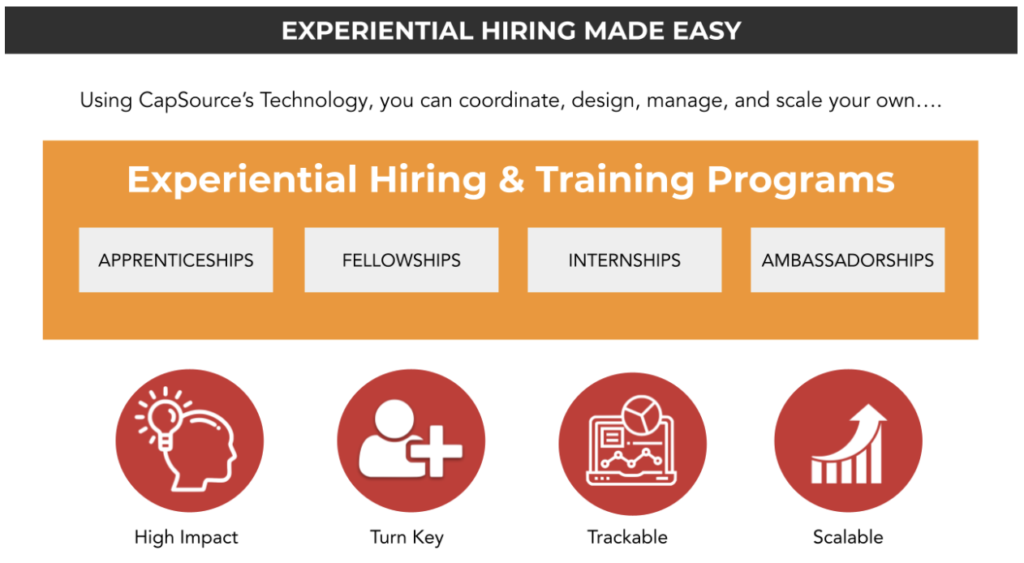 According to the Fair Labor Standards Act, experiential hiring programs should be designed more for the benefit of the candidate than the organization. Lump sum, that means experiential hiring programs should, first and foremost, be designed as high-impact learning experiences for the candidates.
The CapSource platform uses an educational approach to building case-based and project-based experiences as part of the talent acquisition process. Using timelines, we ensure alignment between all parties. Using milestones, we scaffold learning so students get started with a clear understanding of the industry, the organization, the products, the team, and the culture. We also use assessments to ensure learning outcomes are being met and projects are moving along smoothly.
Most importantly, our case-based and project-based approach reduces the burden on organizations to offer these experiences to next-gen talent. Using our tool, companies can engage with a lot more talent at a much lower cost while requiring significantly less time for management, oversight, and performance reviews. Our goal is to help organizations increase the capacity made available for diverse candidates to participate in these types of programs in a high-impact but cost effective way. We believe strongly in reducing the required time commitment provided by program managers by encouraging peer-to-peer learning through a team-based project experience. This model also helps students build and showcase skills across communication and collaboration.
The ideal outcome of experiential hiring includes fresh ideas generated by talent you can hire. On average, 88% of Fortune 500 Companies turnover every 60 years. At CapSource we believe that staying connected to next-gen talent is the key to staying relevant in these ever-changing times. Not only will they serve as your own talent pipeline, but these students will also soon be the future leaders of your client's organizations as well.
If you don't yet use an experiential hiring methodology, you can get started for free by building a CapSource company profile and a free Case Assessment based on your open roles. We recommend upgrading to CapSource LITE and using your case assessments as part of the application process for a more selective, in-depth project-based experience. CapSource's project-based experiences typically use either a single-team collaboration format or multi-team competition format.
As a LITE user, we will help you design the scope of your experiential hiring project so that it's relevant based on the roles you're looking to fill. Our Instructional Design team has helped 400+ companies scope out relevant projects across 20 different disciplines, including marketing, sales & business development, data analytics, human resource management, and software design & development. Our Experiential Hiring Management System makes the process of building programs, attracting candidates, selecting participants, and monitoring project progress easier than ever before. 
According to CollegeRecruiter.com, it costs your company $6,110, per candidate, on average to recruit and hire college students and recent graduates using the traditional approach of campus recruiting, interviewing, and on-boarding. CapSource can recruit, qualify, and on-board candidates for only $1,000, per candidate, using our Experiential Hiring platform and methodology. Half of the proceeds go to CapSource, the other half is paid out to the candidates for participating in the program.
If you'd like to try out the project-based approach for free, CapSource also offers companies to get started by working with our network of university partners on class projects. Although these programs are less flexible since they revolve around a specific course timeline and set of teaching goals, they're a great way to experience our project-based hiring approach with next-gen talent. If you're interested, you can browse our most up-to-date Requests for Proposals and apply to participate by submitting a project idea at any time! These engagements too are either single-team (called Capstones) or multi-team (called Live Cases) as well and are a great way to generate a fresh perspective and qualify top entry-level talent.
Questions? Interested in learning more?
Connect with Chakshu Mittal, our Director of Industry Partnerships
Call: 1 (240) 855-2427
Email: [email protected]