Spring 2022 Live Case Competition
Our hallmark Global Live Case Competition featuring an exciting business challenge!
COMPANY & CASE ANNOUNCEMENT COMING SOON!
Offered in conjunction with IACBE's Annual Conference in Costa Mesa, California at the Hilton Orange County (April 4th - 8th)!
Educators, register your student teams to compete in this one-of-a-kind case competition!
Enhance the student learning experience with real-time skill building and collaboration. To register your students, fill out the form below and a member of the CapSource team will reach out with next steps!
How much does it cost to participate? (same cost for in-person and virtual participation)
Early Bird Special (before December 31st): $600 per student for IACBE-member schools & $700 per student for non-IACBE member schools
Regular Pricing (after January 1st): $700 per student for IACBE-member schools & $800 per student for non-IACBE member schools
** Costs do not include hotel, travel fees, or meals.
Can all students participate?
Teams should be made of up to 4 students from any education level and major/minor! However, each team must be comprised of either all undergraduate or graduate students. Students do not have to be enrolled at the same school.
Explore Example Custom "Live Case" Programs within the IACBE Community
Explore Student Outcomes!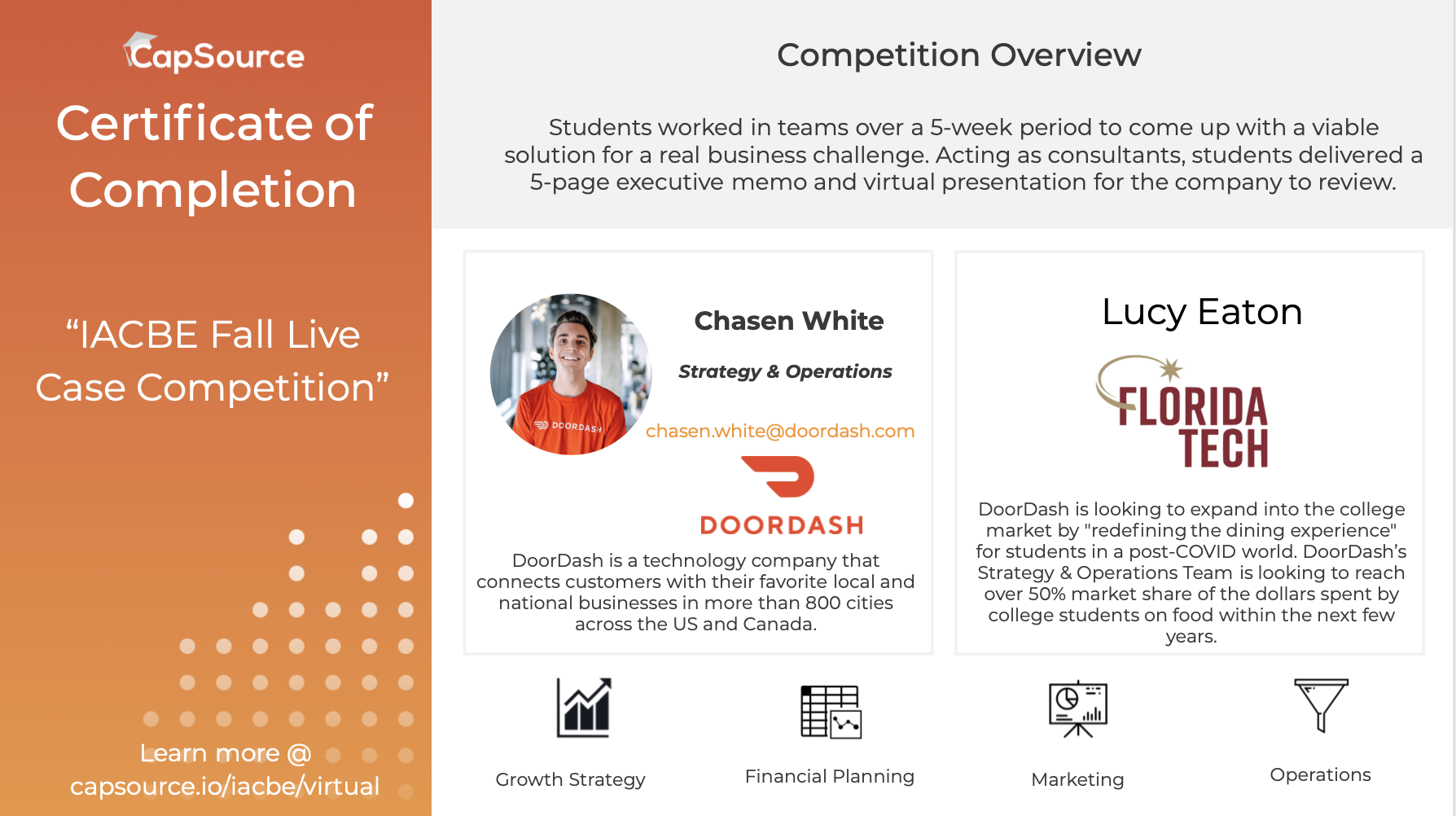 More about the IACBE Case Competition Series!
CapSource has been organizing the Live Case Competition since the Spring of 2018. Our mission was to enhance and grow the experience. We invite the best and brightest students from around the world to represent their school and think BIG about real company issues. They showcase their skills and compete to take home the grand prize: cash money and some real work experience they can use to launch their career!
About IACBE, "Featured Case" Co-Host!
The International Accreditation Council for Business Education (IACBE) ensures academic quality at over 235 leading business schools around the globe. They host a special conference every year where they invite leadership from their community to network and learn more about best practices. The case competition is way to get students involved.