Interested in working with us? You're invited to complete this case assessment!
We use intriguing and relevant case assessments in order to better understand how you as a job c andidate can critically think. We expect this assignment to take no more than 1-4 hours to complete. If you're interested in professional opportunities at our company, please review the case and complete the assignment that is detailed below…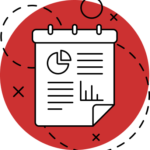 STEP 1:
Review and complete the case assessment below
STEP 3:
Get hired based on your qualifications!
| | |
| --- | --- |
| Name | TELECOM BUSINESS SOLUTIONS S.A.C. (SUPRA NETWORKS) |
| Tagline | N/A |
| HQ | INTERNATIONAL |
| # Employees | 25-50 |
| Growth Stage | Medium Business |
| Website | www.supra.com.pe |
| Description | N/A |
| Explainer Video | |
The Case Assignment
Cyber Threat Hunting as a service for SMB
Case Synopsis
Cybersecurity is a growing challenge, especially for SMB, which lack the resources and talent for managing such complex problems. Furthermore, most of the efforts SMB does are focused on prevention, forgetting that we have an enormous disadvantage against adversaries for stopping all attacks. Even the most powerful prevention architecture is not 100% successful, therefore we have to also focus on detection, assuming an adversary is already inside our organization is a key mindset on today´s cybersecurity strategy. However, building a 24x7 threat hunting team is out of scope for any SMB, it is just not its business. On the other hand, traditional detection tools and services are very pricy, targeted for big corporations, not affordable by SMBs either.
Here is where the opportunity for a specialized, cost-affordable, cloud-based, "as a service" solution comes into place. Pulling out the threat hunting business from its niche and democratize it for SMBs as well.
Case Resources
There are no resources currently available
What are CapSource Case Assessments?
Case Assessments are challenges posed by employers to attract and qualify top hires