Interested in working with us? You're invited to complete this case assessment!
We use intriguing and relevant case assessments in order to better understand how you as a job c andidate can critically think. We expect this assignment to take no more than 1-4 hours to complete. If you're interested in professional opportunities at our company, please review the case and complete the assignment that is detailed below…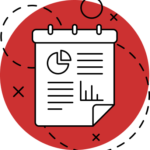 STEP 1:
Review and complete the case assessment below
STEP 3:
Get hired based on your qualifications!

| | |
| --- | --- |
| Name | Remote Intelligence |
| Tagline | Advanced aerial drone systems and services. |
| HQ | Pennsylvania |
| # Employees | 10-25 |
| Growth Stage | High-Growth Startup |
| Website | www.remote-intelligence.com |
| Description | Remote Intelligence is an aerial drone service company who provides expert consultation, training, flight services, and data processing. We have focused primarily in the research, environmental, and energy sectors. Founded in 2013, we are early implementors in the drone market, with a strong client base and good growth. Our team, while small, is highly experienced and we are positioned strongly in the market. Our background is in the environmental sciences and mapping, which has meshed well with aerial drone technology. The values of higher image quality, rapid deployment, improved safety, affordability, and the ability to capture current conditions resonate with our clientele. Remote Intelligence has been a lead innovator, finding new solutions in these fields to streamline processes. |
| Explainer Video | ARVE Error: Mode: lazyload not available (ARVE Pro not active?), switching to normal mode |
The Case Assignment
Develop and refine deer thermal survey procedures using drones.
Case Synopsis
Deer aerial surveys have long been conducted using manned aircraft equipped with thermal cameras. With the advent of aerial drones and the miniaturization of sensors, these surveys can now be conducted more safely and economically using drone systems. The project goal is to develop standardized methodology to ensure high quality deer survey results that are scientifically valid and repeatable. Remote Intelligence has several deer survey projects scheduled for this winter to provide the field data, and the ability to conduct additional surveys to compare other methodologies as needed.
Case Resources
There are no resources currently available
What are CapSource Case Assessments?
Case Assessments are challenges posed by employers to attract and qualify top hires