Interested in working with us? You're invited to complete this case assessment!
We use intriguing and relevant case assessments in order to better understand how you as a job c andidate can critically think. We expect this assignment to take no more than 1-4 hours to complete. If you're interested in professional opportunities at our company, please review the case and complete the assignment that is detailed below…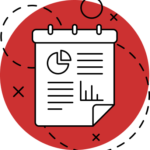 STEP 1:
Review and complete the case assessment below
STEP 3:
Get hired based on your qualifications!
Name
Elatia Abate, LLC
Tagline
Forget everything you think you know about the future of work, life, and humanity. And let's start creating it.
HQ
Florida
# Employees
1-5
Growth Stage
Small Business
Website
http://www.elatiaabate.com/
Description

Elatia Abate is an entrepreneur, future-forward strategist, and Creator of the

Future of Now

. She partners with organizations that range in size from Fortune 500 to early stage start-ups to help leaders make sense of the ever-growing disruption in our world and channel that disruption into tangible results. Her client and partner roster includes the likes of PricewaterhouseCoopers, UniGroup, Verizon, University of Arizona, and University of Cincinnati.

She is a sought-after speaker and facilitator, with a dynamic and engaging style, who has led from the front of the room at Deloitte, VRBO, SHRM, Stanford, and The University of Chicago, among other places. She has a TEDx talk entitled, "Pioneering the Future of Work." In a former life she served as Global Director, Talent Acquisition with Anheuser-Busch InBev and Vice President of Human Resources at Dow Jones & Company. 

She has been featured in work with Tony Robbins and Trevor Noah, and has been named a leading femail futurist by

Forbes

. She is an instructor in the Continuing Studies Departments of both Stanford University and University of Toronto. She received both her BA and MBA from the University of Chicago.

Explainer Video
ARVE Error: Mode: lazyload not available (ARVE Pro not active?), switching to normal mode

The Case Assignment
How can industry leaders prepare their teams for the Future of Work?
Case Synopsis
The pandemic has accelerated trends in remote work and learning, e-commerce, and automation, and has created new challenges and opportunities for individuals and organizations (Ludema & Johnson, 2020). The future of work will require significant change across the workforce, including individuals and companies, that need to find ways to stay relevant and identify new opportunities for growth. Upskilling and reskilling the workforce are leading strategies for empowering organizational adaptability, resilience, and success while empowering people to be professionally relevant and valuable to their organization. 
Elatia Abate and her organization The Future of Now is interested in studying the rapid evolution of workplace practices and how individuals and organizations can stay relevant and create opportunities in the context of rapid change and disruption. Elatia spent seven weeks interviewing contacts on the future of work throughout her LinkedIn network about their challenges and opportunities, as well as advice and predictions for the next 18-24 months. Elatia has particularly focused on how networking, connection, and community might change as a result of the pandemic.
For your assignment, select one of the following industries (teaching, architecture, accounting, transportation, or legal) and make specific recommendations that organizations and company leaders can follow in order to upskill and/or reskill their workforce. Start by highlighting the three most valuable skills currently in demand in your chosen industry along with methods for individuals to refine those skills. How about the skills that these employees are likely needed for the future of work in that industry? What necessary skills do you advise employees in this field to learn to optimize their fitness for the future of work in your chosen industry? How can companies and their leadership play an active role in this process? What resources are available out there? How can Elatia Abate help?
Your Instructions
Develop a blog post including 1500 words (or less) that Elatia Abate and the Future of Now can use as a thought leadership piece to attract members of your chosen industry for her "Future of Work" consulting services.
You must be logged in to upload your deliverable. If you don't have an account, please register.
Case Resources
There are no resources currently available
What are CapSource Case Assessments?
Case Assessments are challenges posed by employers to attract and qualify top hires