Interested in working with us? You're invited to complete this case assessment!
We use intriguing and relevant case assessments in order to better understand how you as a job c andidate can critically think. We expect this assignment to take no more than 1-4 hours to complete. If you're interested in professional opportunities at our company, please review the case and complete the assignment that is detailed below…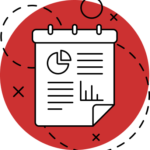 STEP 1:
Review and complete the case assessment below
STEP 3:
Get hired based on your qualifications!
The Case Assignment
Hanging Secrets Bra & Lingerie Organizer
Case Synopsis
Our business is minority women owned and was established 5 years ago.
We launched a patented bra & Lingerie organizer 4 in half years ago.
We are an online e-commerce business.
We have 100 % customers satisfaction rate.
Hanging Secrets was named one of 7 new favorite up coming brands one of the largest lingerie expo in North America Curve Expo New York 2016
We have not met our annual protected sales.
We donate a percentage of our sales to breast cancer survivors .
We are not meeting our business plan sales forecast.
Case Resources
There are no resources currently available
What are CapSource Case Assessments?
Case Assessments are challenges posed by employers to attract and qualify top hires