Building and managing a powerful internship program just got a whole lot easier!
CapSource uses a proven work-based learning model to help industry leaders design and manage group-oriented Internship Programs that are low cost, low maintenance, and high impact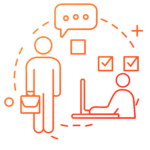 QUICK TO DESIGN
Use plug-and-play project templates to carefully define goals, objectives, deliverables, and milestones due throughout your totally customized program!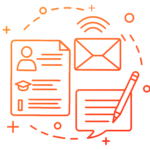 EASY TO RECRUIT
Recruit talent through our network or on-board and manage your own! We use case assessments and highly engaging applications to ensure candidates are the right fit for your program!
EFFECTIVE TRACKING & MANAGEMEMT
Leverage turn-key evaluation templates to track progress, measure performance, collect feedback, and analyze outcomes so you can make the best hiring decisions.
RECRUIT, ENGAGE, ASSESS & TRAIN TOP TALENT
Reduced recruitment costs
Broaden your applicant pool
Plug-and-play group project templates
Adapt projects based on your key business challenges
Measure team dynamics and outcomes
Collect and archive outcomes
Facilitate performance reviews
Hire engaged, vetted, and informed talent
ARVE Error: Mode: lazyload not available (ARVE Pro not active?), switching to normal mode

STEP 1: REGISTER & BUILD YOUR PROGRAM
Leverage the CapSource Intern Management System to build and customize your internship program based on your hiring needs. Prepare to engage candidates in a strategic, time-efficient, high-impact way. On-board key colleagues and project managers from your organization.
STEP 2: RECRUIT & ENGAGE CANDIDATES
Ensure the right interns are committed to your program and that they're prepared to showcase their skills by working in teams to solve challenges related to your business.
STEP 3: HIRE & RETAIN TOP TALENT
Using peer and performance evaluations, CapSource will help ensure you're hiring the best, most qualified talent who are trained on the business and ready to get started.
NOT READY FOR AN INTERNSHIP PROGRAM?
Get started for FREE by proposing an #OpenCase: an up-to-date open innovation challenge.
Your real business challenges will be used asynchronously by thousands of educators and students from all over the globe as "case studies" in their coursework, including homework assignments, group projects, class discussions, and more! Plus, you get to see all the results and meet top-talent for free!